Consistent. Verifiable. Research backed.
In everything truth surpasses the imitation and copy. - Marcus Tullius Cicero
Since the genesis and subsequent success of Worm Power Turf many have attempted to copy the success. It's time to weed out the empty and unproven claims and cut right to the facts.
Worm Power Turf has been awarded peer-reviewed research grants from State and Federal Agricultural Agencies. In 2015 Cornell University's Institute of Biotechnology completed research examining the microbial makeup of Worm Power Turf.
Through rRNA Gene Sequencing, Cornell identified at the species level over 1400 different micoorgansim in Worm Power Turf.

In 2016, NC State University completed research to determine the effects of Worm Power on turfgrass health and rooting; and analysis of the microbial content in Worm Power. The conclusion of this research found two things:
In the two health studies it was very interesting that the Worm Power treatments showed significantly higher NDVI readings, especially in the creeping bentgrass study.
The plating experiment demonstrates that WormPower has enough microbial material in it to have an effect in turfgrass systems.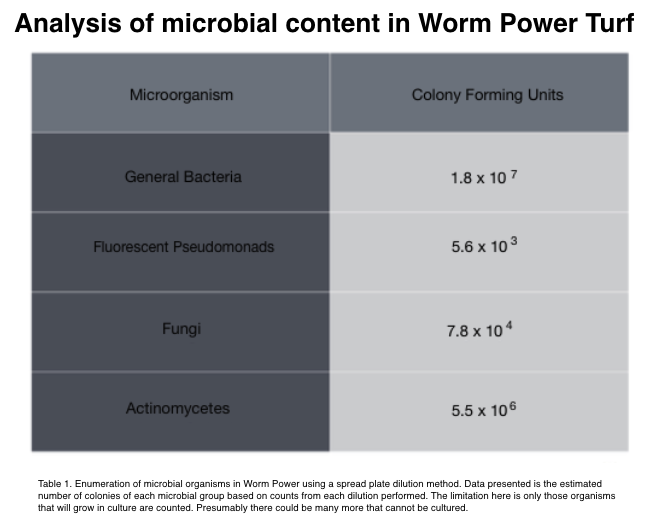 In a recent golf course industry survey, turf managers were asked to rank what they feel is most important when considering trying a new product. Below are the results ranked as 1 least influential to 5 most influential.
Product has University backed research - 3.84
Supportive case studies of other turf managers using it - 3.99
It's worked for other turf managers - 3.89
Worm Power Turf checks all of the above!
When evaluating products to incorporate into your agronomic programs, ask for supporting evidence of marketing claims. Evaluate the total cost of the products. Make sure the product is worth the investment.